Financial modelling is a core part of the business and we have carried out many modelling projects.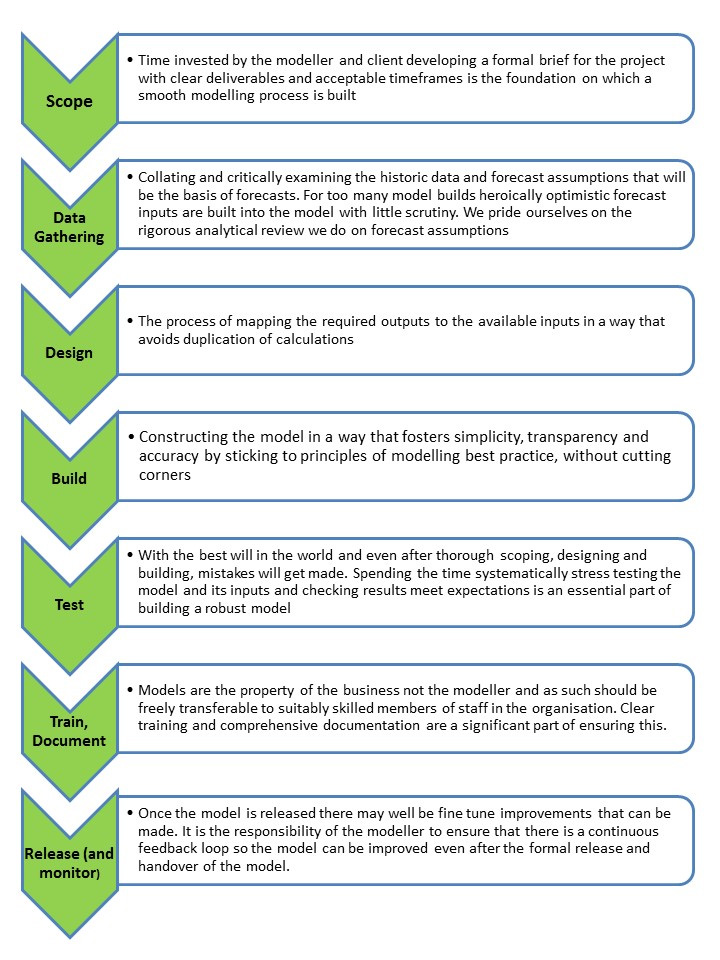 Financial Modelling
Financial modelling is a core part of the business and we have carried out many modelling projects. In addition Simon has personally provided training in financial modelling to investment banking recruits at Citigroup, Lazard & Nomura. In September 2011 he was appointed Visiting Lecturer at City University where he teaches financial modelling.
Website-Schematic1
Types of transaction
We have produced Financial Models for a wide variety of business contexts including
Business as usual financial planning
Bid modelling
Models for debt and equity fund raising
M&A modelling
Whatever the context, the universal principles of logical design, realistic model assumptions and rigorous testing apply.
Training
Simon's experience in financial modelling training to a number of investment banks and as a visiting lecturer at City University enables us to create a bespoke training solution for your business
Example Projects
1) Business Services Company: Providing business support by introducing business modelling and forecasting best practice as part of turnaround team brought into the business.
Introducing forecasting models, systems and best practice into a business that did not have established business planning procedures
Introducing formalised bid modelling practices for all future tenders
Producing ad hoc business models and business cases in relation to new ventures for presentation to directors of operating company and parent company
2) Waste Management Company: Building forecasting tool for Waste Management Group and Private Equity owner.
Producing consolidated forecasting tool that built in sensitivity analysis of banking covenants
Producing forecast models for M&A targets that satisfied the multiples stakeholders (Acquiring company, parent investor company, target company, advisors, potential debt and equity providers)
Testimonials
"I engaged Simon to work on the financial modelling for a complex and successful refinancing exercise Siblu was engaged in during 2009. Simon's input, through his competence and professionalism, contributed significantly to the success of the project and I would have no hesitation in recommending his services."
FD Travel Business contracted Simon Proctor Consulting to assist with debt & equity fund raising
"…a brilliant modeller and is always the first person we go to for modelling requirements".
(Managing Director, Turnaround Consultancy)